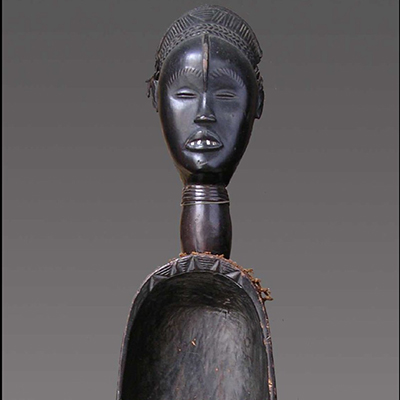 Bellarmine Hall Galleries
September 14 - December 14, 2018
Many important collections of West African art trace their origins to the state of Connecticut. This exhibition highlights objects acquired in the early 1930s by Connecticut artist Alfred James Tulk of Stamford.
Born in London in 1899, Alfred Tulk studied art at Oberlin Art College and then Yale University, from where he earned his BA in 1923. Tulk is best known for his public mural paintings, stained glass windows, and mosaics, many of which he completed during his tenure at the Rambusch Decorating Company in New York City. Between 1925 and 1954, he painted over 300 large murals for theatres, churches, hotels, restaurants, and private homes in the United States.
In 1931, Alfred Tulk and his wife, Ethel Tulk, traveled from their home in Connecticut to rural Liberia, where they spent one year living and working in Ganta at the American Methodist mission station established there in 1926 by Tulk's close friend, medical missionary Dr. George W. Harley. While in Liberia, Tulk assembled a small but important collection of masks, statues, and other objects of daily use and material culture a number of which have been re-assembled for this exhibition. He also created a portfolio of portrait drawings and oil paintings which he created in situ of local subjects from the region around Ganta. The exhibition will include several of Tulk's own artworks, as well as some of his field photographs, his map of Liberia, selected correspondence, and a copy of his original handwritten field diary.