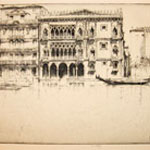 The Bellarmine Museum
January 23 - April 4, 2014
As a mature artist, the great American expatriate James Abbott McNeill Whistler (1834-1903) began using a stylized butterfly in place of a signature to maximize his work's aesthetic qualities. Whistler's concern with an immersive visual experience is highlighted in this focus show, which features works on paper from his Venetian series together with related images by Frank Duveneck (1848-1919), Otto Henry Bacher (1856-1909), Mortimer Luddington Menpes (1855-1938), Joseph Pennell (1860-1926), and Clifford Isaac Addams (1876-1942).
This exhibition complements Reflections and Undercurrents: Ernest Roth and Printmaking in Venice, 1900-1940, on view concurrently at the Thomas J. Walsh Art Gallery.
To more fully experience this exhibition, you are invited to download a PDF here. In it you will find an map that will allow you to see locations captured in these works.