Like a true master of his craft, however, Kinstler does not stop at mere technical wizardry. Rather he harnesses his virtuosity in furtherance of what he considers the chief ends of art: the conveyance of emotion, the unleashing of imagination and the craft of communication. The results are staggering; an ersatz world, conjured only in oil on canvas, suspends our disbelief while simultaneously speaking to our hearts, minds and souls. Experience Kinstler's mastery for yourself at the Bellarmine Museum's Everett Raymond Kinstler: Pulps to Portraits exhibition (which was organized by the Norman Rockwell Museum in Stockbridge, MA), now through September 28, 2012.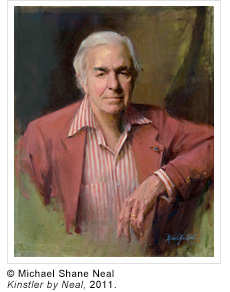 Kinstler, who splits his time between New York City (where he has had a studio at the National Arts Club for more than sixty years) and Easton, CT, has produced more than 2,000 portraits in his career; a career that is far from over for the octogenarian, who continues to paint every day. Highlights among the thirty-three works on view at the Bellarmine include Kinstler's paintings of President Bill Clinton, Tony Bennett, Dave Brubeck, Benny Goodman, Katharine Hepburn, Paul Newman, Liv Ullmann, and Tom Wolfe. "Everett Kinstler's portraits not only capture, with dazzling bravura, the physical traits and characteristics of his sitters, they also convey the essence and character of those he paints," notes the Bellarmine's director, Dr. Jill Deupi. She continues: "It is this capacity to 'connect' that makes Kinstler, like the great John Singer Sargent (1856-1925) before him, a true master of the genre."
One of our nation's finest portraitists, Kinstler was awarded the highly coveted Copley Medal from the Smithsonian's National Portrait Gallery in 1999. Additionally the artist has received honorary doctorates from the Academy of Art University, San Francisco (2010), the Lyme Academy College of Art (2002) and Rollins College (1983). His memberships include: National Academy of Design (N.A.), Allied Artists of America, American Watercolor Society, Pastel Society of America (Hall of Fame), Audubon Artists, Copley Society of Boston (life), and National Arts Club. Kinstler's works are represented in prestigious art institutions across the country, including the Smithsonian Institution's National Portrait Gallery (which acquired over 100 of his works for its permanent collection), the Metropolitan Museum of Art, the Brooklyn Museum, and the White House. A large number of his paintings are also held in private collections.
Everett Raymond Kinstler: Pulps to Portraits features an exhibition catalogue with over 60 images, including comic and pulp pages, paper-back book covers, easel paintings, portraits, and the artist's most recent movie series, plus an essay by William H. Gerdts, art historian and Professor Emeritus of Art History at the CUNY Graduate Center. It is available for purchase at the museum for $20. An illustrated exhibition brochure is also available, free of charge, in the galleries. Exhibition programming includes Gallery Talks with Everett Raymond Kinstler at 5 p.m., Wednesday, June 20, 2012, and 5 p.m., Thursday, September 20, 2012. The Bellarmine Museum also presents Hold That Pose! Portraiture for Children, a Family Day, for ages seven and up from 1 p.m. to 4 p.m. on Saturday, September 9, 2012. The documentary, Everett Raymond Kinstler: An Artist's Journey (2004, 56 minutes), will be shown on Wednesday, June 27, 2012 at noon, Wednesday, July 18, 2012 at noon, Wednesday, August 22, 2012 at noon, and Tuesday, September 11, 2012 at noon.
This exhibition has been made possible by the generosity and support of the following institutions and individuals:
Mr. and Mrs. Tony Bennett
Dianne B. and A. Van H. Bernhard
Dr. Arnold J. Davis, Lord of Barnham Broom
Bill and Jane Donaldson
Mr. and Mrs. E.R. Kinstler
Mr. Gary R. Haynes, Haynes Galleries
Morris Media
Mr. James B. Murphy II
The National Arts Club
National Endowment for the Humanities
Norman Rockwell Museum
The Players
Portrait Society of America
Jack Richeson & Co.
Super Discount Wine & Liquor
Westtown Publishing Company