About the Exhibition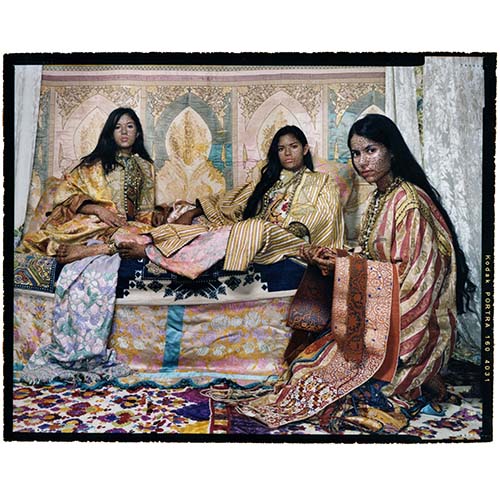 By Design: Theater and Fashion in the Photography of Lalla Essaydi explores the artistic process behind the creation of Essaydi's carefully staged photographs, which deconstruct and reimagine stereotypes of Muslim womanhood. Guest Curator Cynthia Becker (Associate Professor in the History of Art & Architecture Department at Boston University) has selected approximately 20 works spanning Essaydi's career for inclusion in this groundbreaking exhibition. Becker notes that, "This is the first time an exhibition has emphasized fashion and staging in Essaydi's work ...[she] might spend months creating a single garment to be worn in one of her carefully crafted tableaus. She spends hours arranging her models and, in the process, recreates the familial bonds so important to Moroccan women's lives."
Born in Morocco, Lalla Essaydi lived in Saudi Arabia for many years and studied painting and photography at the École des Beaux-Arts in Paris and the School of the Museum of Fine Arts in Boston. She currently lives between New York and Morocco. Her time in Morocco also exposed her to the nation's rich history of architectural design and the ceremonial occasions so important to daily life, both of which are featured in her photographs.
The exhibition will include works from Essaydi's most important series created over the last twenty years. In her Harem series from 2009, Essaydi photographed women inside a lavish Moroccan palace known as Dar el Basha. She created original Moroccan-style garments for her female models that recreated the intricate mosaic and carved wood patterns that decorated this historically important structure. Lalla Essaydi embraced fashion again in her Harem Revisited series (2012-2013), using antique Moroccan dresses borrowed from the collection of Nour and Boubker Temli. With her series Bullets and Bullets Revisited (2009-2014), Essaydi crafted a richly detailed scene of highly ornate tiles, woodwork, and clothing out of bullet casings. In these glittering photographs, Essaydi comments on the violence that many associate with contemporary Middle Eastern and North African countries. Ironically, Essaydi transformed bullets into sparkling garments and intricate backdrops so that they are no longer recognizable as weaponry, illustrating the sense of tension and ambiguity that makes her photographs so compelling.
This exhibition provides a unique opportunity to appreciate Essaydi's Moroccan-inspired fashion sense and unique theatrical skills. The works, some of which are very large scale, will be presented in the museum's Walsh Gallery, and will be accompanied by a full array of complementary programming.
Background Image: Lalla Essaydi (Moroccan, b. 1956), Harem Revisited #31, 2012, chromogenic print. © Lalla Essaydi, Courtesy of the artist and Edwynn Houk Gallery, New York
Explore the Exhibition
Virtual Tour
Browse Artwork
All works are by © Lalla Essaydi (Moroccan, b. 1956) and are presented courtesy of the artist and Edwynn Houk Gallery, New York
Listen
Audio Guide: Selected Works
Magreb Medley
Listen to a playlist of contemporary Moroccan music, curated by Faculty Liaison Silvia Marsans-Sakly, PhD
Learn
All events will be livestreamed at thequicklive.com. Click below to register for reminders.
Opening Night Virtual Lecture: By Design: Theater and Fashion in the Photography of Lalla Essaydi
Thursday, January 28, 6 p.m.
Cynthia Becker, Associate Professor of African Art History, History of Art & Art Department, Boston University
Part of the Edwin L. Weisl, Jr. Lectureships in Art History, funded by the Robert Lehman Foundation
Virtual Lecture: Lalla Essaydi and the Art of Costume
Wednesday, March 10, 5 p.m.
Julie Learson, Costumier, Theatre Fairfield
Virtual Family Day: Color and Pattern in the Islamic World
Saturday, April 10
Registration required
Lecture: Women, Status, and the Family Code in Morocco
Tuesday, April 20, 5 p.m.
Silvia Marsans-Sakly, Assistant Professor, Islamic World, Department of History
Art in Focus: Lalla Essaydi, Harem Revisited #31, 2012, chromogenic print
Thursday, May 20, 11 a.m.
Michelle DiMarzo, Curator of Education and Academic Engagement